November 30th, 2009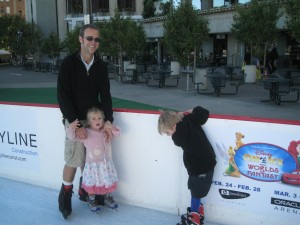 It is officially winter around here. Last weekend, we took the kids ice skating. Apparently, there is a window in our lives during which ice-skating comes naturally as Sylvie was sure footed and Will was like Bambi on ice. My back still hurts from trying to get him to stand up.
Sunday, we went to Fort Point under the Golden Gate Bridge. They've turned the old fort into a museum which is both spooky and incredibly picturesque. If you are ever filming a horror flick, this place should be on the top of your list to scout. Loved the child eating waves on the approach.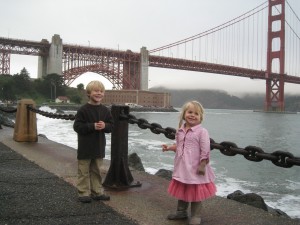 Our Thanksgiving was shared with Doug's side of the family. Somehow I lucked out in the family department as this side is just as nice as my side. Not exactly a substitute, but their company is always wonderful. Sylvie is thankful for sandwiches and dinner, says she.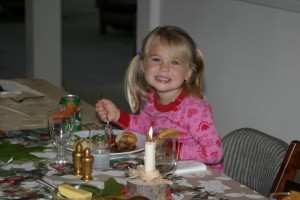 I'm also thankful for the protection my pirate children provide me, and the fact that they don't use their swords on each other.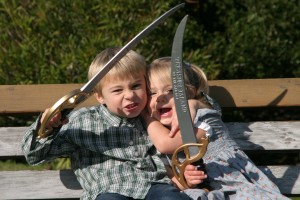 I am also thankful for stink-eye. It appears to be genetic.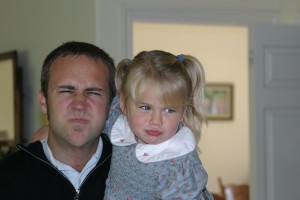 Christmas has already arrived at our house. One of the benefits to keeping your Christmas lights on the house all year is that we are ready for Christmas just as soon as we toss the scary pumpkins behind the parapet of our roof.
And yes, we've already got a tree. At Doug's request, because he said the pictures of us buying a Christmas tree at Home Depot were embarrassing, we cut our own tree from a farm in Petaluma.
Sylvie's sales pitch, "This tree is perfect. It is beautiful. I love it."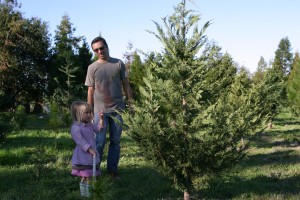 We settled on a redwood which I think is the prettiest, ever.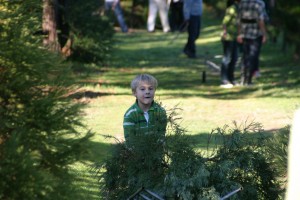 Last night the kids helped me decorate the tree. Decorating the tree in our house is not the jolly affair that John Hughes would have you expect as the kiddie exuberance around delicate ornaments makes me wicked. Not that we were hanging anything delicate, just that all the soap bubble crystal ornaments happen to be in the same boxes as the wooden, kid friendly ones. Somehow we got the tree up and trimmed. Sylvie asked me this morning to help her put on the Santa socks (stockings I lovingly crafted a few years ago and carefully hung on the mantle last night…).
I must be instinctually planning for a rough winter as I've had an overwhelming need to nest. I started a batch of vanilla on Friday, made persimmon jam from the 3lbs of persimmons on my counter, today, and whizzed all of our basil into pesto for the week.
I've been reading Julia Child's autobiography on my bus rides to the office, and her original cookbook on short rides with the kids. Something about both books makes me crave butter and wine. We're not eating any better than normal – except for my perfectly poached eggs this morning and the random batch of asparagus soup – but, any minute now, I'm going to break into sauce and crepe some things.
Hope your Thanksgiving was wonderful and that you are enjoying the brisk air. (Hope you Texans are getting some brisk air.)