August 27th, 2009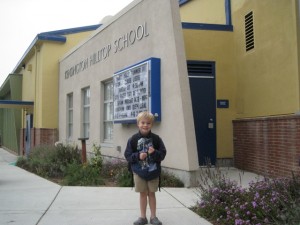 We delivered our first into the hands of the public school system Tuesday. The event has been long in preparation in our neighborhood and our household beginning with the drama around registering for our over-filled school – it was like getting precious concert tickets! Next came the assessment, Will's first job interview, where he met one of the teachers, had to show off his kindergarten skills. Then came the preschool graduation and graduation parties. And finally, 8 months later, the big day.
It really takes a village to raise children, and I've been so happy about how our village has been taking care of our children.
For one, Will's school posts the class rosters on the main playground wall on the afternoon before classes convene. I think this is brilliant, as when we arrived early evening, there were kids and parents re-uniting on the playground. New parents bonding with old parents at the roster wall. Old parents guiding new parents around the campus… Will's (older) girlfriend and family were plopped down just beside the Kindergarten rosters when we arrived. We were all thrilled to see them – Will happy to see old friends, us happy to see familiar faces to guide us through which parent groups to join, what meetings to attend… After they gave us the low-down on Will's new teacher and we scouted out the bathroom, his classroom and the kindergarten playground, we took the kids to get new clothes.

Tuesday morning went smoothly. Sylvie, hearing us play up Kindergarten, insisted on carrying all of her school stuff in a backpack, and then barely waved us out of her classroom. His most recent crush, the director at his preschool, gave him the low-down on afternoon walkdown – where to meet the teacher, who would be walking him down – then sent him off with a high-five. At the elementary school, we ran into familiar faces on the playground outside Will's class which put him at ease.
I've heard through the grapevine that Sylvie has been clinging to the neighborhood mommies when they drop their kids at preschool, and the past two nights one of the kids has fallen asleep before dinner. Exciting times!
When I asked Will if he'd brought us anything home, he explained, "All the other kids got homework. I don't know why the teacher didn't give me any." Then the next morning claimed he had debilitating leg pain and couldn't go to school. Generally we're off to a good start. I'm enjoying watching the smiley faced assignments roll in, and after I explained that this isn't the army, he'd have to do better than a leg cramp if he wanted to take the day off, we had little resistance getting Will into the classroom.
And Sylvie? She's grown a few months in the past week or so. Her sentences are longer, her observations sharper, and she's trying on her brother's whining. (I think it is all that reading Grandma Texas did while she was in town.)