July 15th, 2009
It has been a long day for the kiddos. My big guy is 5. Sylvie, keeps telling us that her birthday is coming up! When we sang Happy Birthday to Will, she said, "Now sing to Sylvie!"
The day began as most of our special days do – with donuts.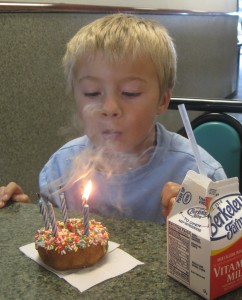 Will's school requests that the children give a book to the school on their birthday, so we brought three of my favorites – The Seven Silly Eaters, I'd really like to eat a child, and Library Lion. Will was upset that they only read two of his books at his birthday circle.
After school, we headed to the city for inexpensive sushi at Kitaro on Geary. The kids serenaded the waitress with their sushi chant. "Sushi! Sushi!" Will gulped down 18 pieces of salmon sashimi. At this rate, college is looking economical in comparison to his appetite.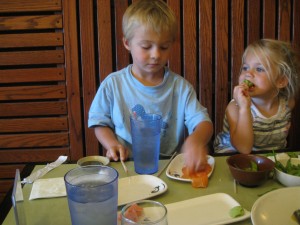 To wash it all down, we took the kids for ice cream at Joes. Joes is a tiny walk up diner/ice cream joint in the outer Richmond. The ice cream is homemade and delicious. The prices and decor haven't been updated since the place opened in 1958. Although we frequented this place for ice cream when we lived in the neighborhood, I'm a little sad we didn't stop to eat more. It appears to be family owned, and I'd guess it is on a second generation at this point.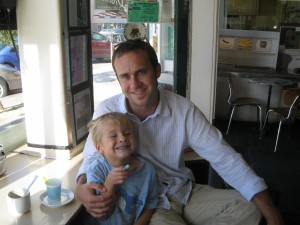 That's a new t-shirt I made Will – a walrus. Note to self – take pictures of the clothes I make BEFORE they go into circulation.