July 13th, 2009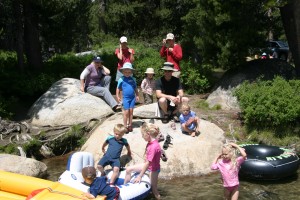 We spent a short weekend deep in the woods of Eldorado National Forest with our good friends/neighbors. The Bay Area has a Mediterranean climate that keeps us warm and dry throughout the summer and blows the mosquitoes to far away regions. We confirmed before leaving that the weather in our destination was warm and dry. And going for just the night, we left all extraneous gear behind, packing the minimum required to weather the weekend. Unbeknownst to me, the Sierras are beyond the border of that Mediterranean climate, and so like a novice, I learned the hard way that you always pack your rain gear, warm clothes, and deet when you venture out into the woods.
Thankfully, when the rain appeared over the distant peaks, between the three families, we had the fixins to hobble together quite a shelter. The men set to the task of securing our rain cover while patron saint L watched 7 kids use her camper van as a playscape and the other moms snapped green beans for dinner.
The awe inspiring tarpery – (really, this is the kind of resourcefulness you only expect of the homeless):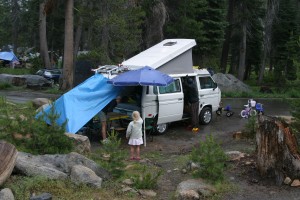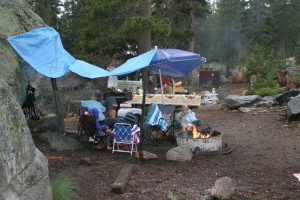 The kids spent quality time in the water. (The men had a short lived water fight)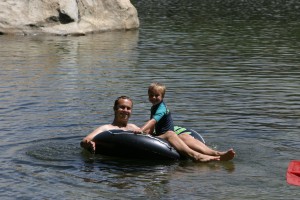 Some hiking and requisite posing with sweeties. (Will and the woman he has been planning to marry for the past 2 years)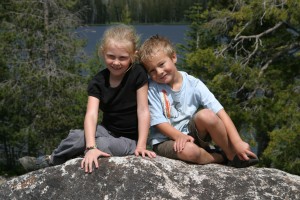 Daddy and his sweetie: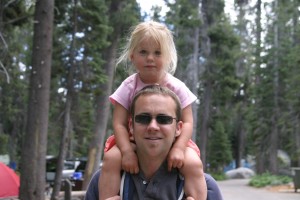 Next up on the agenda is Will's birthday. Celebrations kick off tomorrow with donuts and sushi (not in the same meal), and peak this weekend with a movie screening in our back yard. Doug and I are frantically piecing it all together before the soiree and trying to find a Quadrilla Marble Track for the birthday kid in time for him to have something to open, tomorrow.
Have a good week.