May 31st, 2009
Post graduation, we headed out to Butano, near the town of Pescadero in the hills of Santa Cruz to camp with the neighbors. Wow.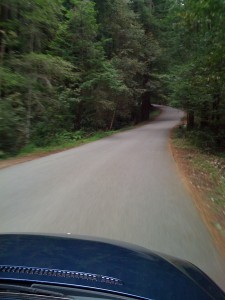 I'm afraid to post good pictures of the place for fear that it will cease to be as incredible as it is today. This is a Disney forest with mossy branches, tall redwoods hollowed by fire, an infestation of bunnies and ponds full of newts. The campsites are large and mostly filled with tent campers. Unlike other California camping, these sites are close to incredible hikes that feel remote.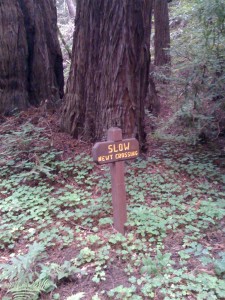 The kids had a blast, as did the adults watching them run about on their adventures in a huge happy pack. Despite much log crawling, only one kid fell in the fetid swamp. Though there was about an hour of half-naked marshmallow fueled fire dancing about the pit (kids, only), I'm the only one with burns. (I underestimated the heat of the tin cups on the fire pit.) The only tears were shed by over-tired 2-year-olds too tired to continue playing, but also too tired to fall asleep peacefully.
We snuck out for a 4 hour visit to Maker Faire in San Mateo on Saturday. We didn't get to build a rocket, but we did catch the firing of the Tesla Coils and the 102 bottle Mentos and Diet Coke show. Awesome. Will came home the proud owner of a used Diet Coke.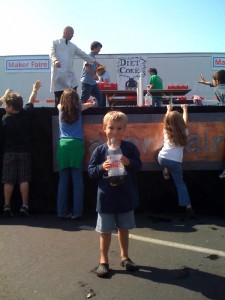 Sylvie: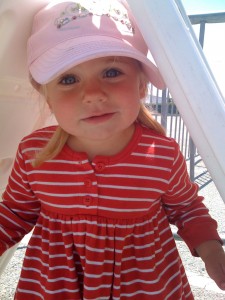 Will pushing some Art around: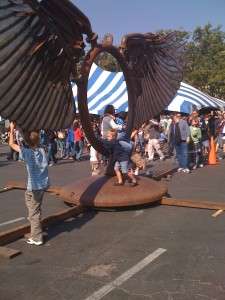 The staring contest: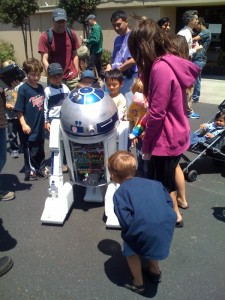 Today, we ended the adventure with a hike to the Ano Nuevo Elephant Seal rookery. But somehow, with 3 sets of adults, we walked off without appropriate photography equipment. Those seals are giant. En masse, they look a lot like a giant slug convention.
Hope your weekend was wonderful.