May 26th, 2009
Shhh… It's a secret!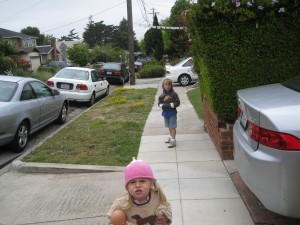 When we were looking for a house, we wanted to live some place where all of our necessities were within walking distance – much like our child-free pad in the city. Where it was easy to get to the places we wanted to be, in the way we wanted to get there. This was long before we understood how important strollability is to new parents, or scootability to older, wiser parents. And way before we had any concept of how important it is to have grocery stores with good snacks scattered every mile of one's run, when one must run with kids of any age. This criteria, walkability, brought us to Berkeley, where walking was built into the framework of the town from the day the founders laid the first foundation.
Berkeley sprung up in the early 1900s with people flocking to the University and others fleeing the earthquake. The town's steep hills were far too slanty for cable car, but consumer cars were not yet prevalent, so the townspeople, apparently organizers from the start, formed the Hillside Club to urge builders to lay out streets following the slopes of the hillside, connected with footpath stairways. In the day, these stairways served as major thoroughfares through the hills, connecting people to rail lines, parks, schools and businesses. They've long since lost their importance in the daily commute of most in Berkeley, but thanks to a few organizers and the Fire Department, they continue to stay clear and mostly maintained, perfect for the weekend and evening walkers.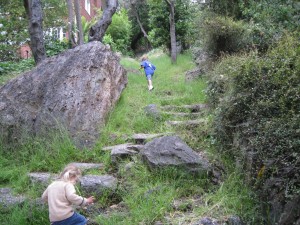 Inspired by the mystery of secret passageways, the kids and I went exploring on Sunday. There are at least 6 pathways within a kid friendly walk of our house. All of the pathways are marked with small street signs, obscured from plain sight by vegetation, adding to the sense secretness. My favorite pathway is Indian Trail, as it feels the most enchanted with it's long unkempt grass. If I had my way, the residents bordering pathways would have to plant fruit trees and edible flowers for foraging kids.