April 30th, 2009
We had a windy fun-filled weekend camping at Sonoma State Beach with the kids' favorite friends – Matthew and Toby.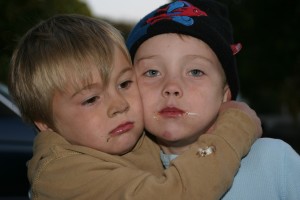 We got off to a rough start arriving at 8:40PM to pitch the tent in the dark, fighting 40mph winds, and ultimately burning a small hole in the tent when the wind pushed it against our only source of light – the propane lantern. Sylvie was up with an earache most of the night, so by the first sign of light at 5AM we were up to find that we'd forgotten our camp stove, packing only the grill, and Doug had forgotten his coffee. Doug is a coffee junkie. The wind was still blowing with great intent, and we needed cell reception to call for a stove, coffee to fuel the man, and tylenol to calm the little, so we headed out to the nearest town. A few hours later, we were back at camp with 2 pounds of saltwater taffy, tylenol, coffee and ready to start the day.
Toby and Matthew arrived around lunchtime and the fun began. The kids hung out in the tents and hung from the trees. Trees became pirate ships and sticks were wielded as fishing poles. Dinner was fresh caught sole and crab from local fish mongers. We boiled the crab in our tiny camp pots filled with sea water and grilled the sole on the barbecue. It was incredible. Doug says he likes Alice and Arne because they, like Josh and Jeanie, eat everything as a burrito.
Dessert was the requisite S'mores, and somehow despite the chaos of fire and small, excited children, there were no marshmallows burnt into hair or onto chairs or flaming pokings. All was somehow good with the marshmallow roast.
Sunday was perfect. The kids got in some quality beach time flying Arne's learning kite (for kite surfing), rolling in the shells and pebbles and making mud pies with the water from camp. Good times.
Can't wait for this weekend.