April 22nd, 2009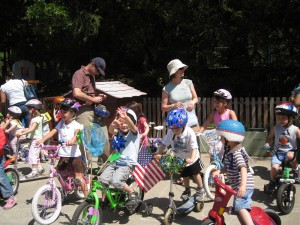 Today was the second annual Trike-a-thon at KNS. The kids were instructed to bring their decorated vehicle and helmet this afternoon. Rumor on the playground was that most parents barely remembered to bring bikes, today, much less break out the decorations. But, they turned out.
At high noon, the kids took to the 10 foot diameter track and started scooting, pedaling, and kicking about while the parents counted laps. 60 kids under 6 in helmets and on wheeled vehicles. It was mayhem. There were traffic jams, head on collisions, pile ups and conjoined pedaling attempts, but no tears, shouting matches, bites, or pulled hair. I don't think anyone made the owie list. The kids were too focused on having fun to bother getting hurt or angry. Professional cyclists could have learned something from these kids!
After about 30 laps, give or take 10 – some kids are fast! some kids are slow! – we called it an afternoon and relaxed with picnic lunches in the sun. Will is pooped. The kid fell asleep on our run this evening ~ 6PM.
Here's his bike: