June 30th, 2009
It is a big week. Sylvie's nanny share with Theo has come to an end, she is leaving her Spanish emersion school and heading off to big kid preschool to be near her brother. Will has been enthusiastically instructing her in the ways of preschool, Doug has been cheering her on, and Sylvie and I are dying inside. I'm sure she's wondering what the fuss is about. I'm sad to be sending off our beloved nanny and to see my baby all grown up. I know, next comes dating! The horror, the horror!
Last picture of the share: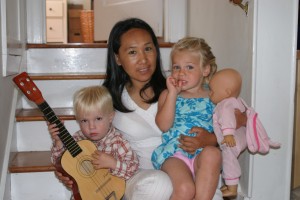 That is Theo. Sylvie taught him self-defense. He taught Sylvie compassion. Fair trade, I'd say. Their nanny is a real live Sherpani who toted them about 8 hours each day through the hills of Berkeley. Wonder woman. Need a nanny and in the area?